Grand Opening Ceremony of E&E Engineering and Service Co.,Ltd
EDL-Gen Operation and Maintenance Service Sole Co., Ltd (EDL-Gen O&M) and EGCO Engineering & Service Co., Ltd (ESCO) have jointly set up the E&E Engineering and Service Company Limited for the purpose of providing operational and maintenance to 650MW Nam Theun 1 hydroelectric power generation and to provide various services to other power plants and industries in Laos.
The grand opening ceremony of the E&E Engineering and Service Company Limited was held in Vientiane last week. It was attended by the Ministry of Energy and Mines' Office Head, Dr Daovong Phonekeo, Charge d'Affaires a.i. at the Thai Embassy to Laos, Lieutenant Chatchawan Sakornsin, Managing Director of EDL-Gen, Mrs. Rattana Prathoumvan and EGCO President, Mr Jakgrich Pibulpairoj, along with EDL-Gen and ESCO representatives and government officials.
E&E Engineering and Service Company Limited was founded by two partners, EDL-Gen O&M, the subsidiary company of EDL-Generation Public Company (EDL-Gen) and ESCO, the leading Thai power plant operation and maintenance service provider under the EGCO Group, Managing Director of the EDL-Gen O&M, Mr Phoummy Netibanedith, said at the ceremony.
The company was established on November 15, 2018 with registered share capital of 8 billion kip, of which 60 percent is owned by EDL-Gen O&M and 40 percent by ESCO, he said. The company's services are providing O&M services, major maintenance services, engineering and construction services, long term service agreements and technical training, Mr Phoummy said. EDL-Gen O&M was established in December 2017 and registered as a legal entity in the Lao PDR. The company's O&M engineers have more than 40 years of experience at 10 hydropower plants including Nam Ngum I (COD)-1971), Nam Khan 2(COD-2015), Houay Lamphan Gnai (COD- 2015), Xeset 2 (COD-2009), Nam Leuk (COD-2000), Xeset 1 (COD-1991), Nam Mang 3 (COD-2005), Nam Sana (COD-2014), Nam Song (COD-2012) and Selabam with total installed capacity of 619MW.
The registered capital of EDL-Gen O&M is 2.4 billion kip with EDL-Gen holding 100 percent of the shares. The core business operation is to provide operation and maintenance services for hydropower plants, to provide the major and minor overhaul for hydropower plants and substations, and to joint- venture with domestic and abroad companies. O&M services for hydropower plants are PSA Xepian-Xenamnoy, Nam Lik 1, Nam Khan 3, Tad Salen, Nam Theun 1, PSA Don Sahong, Nam Chiane and Xeset 3.
ESCO the leading of Thai's power plant operation, maintenance and engineering services provider. The company was established in September 1995 and has a capitalisation of 400 million baht or about US$11.5 million and is wholly owned by the Electricity Generation Public Company Ltd. (EGCO). ESCO have more than 20 years of experience in Power Plants, Petrochemicals and other industrials for Operation, Maintenance and Engineering services in Thailand, other countries in South East Asia and Middle East.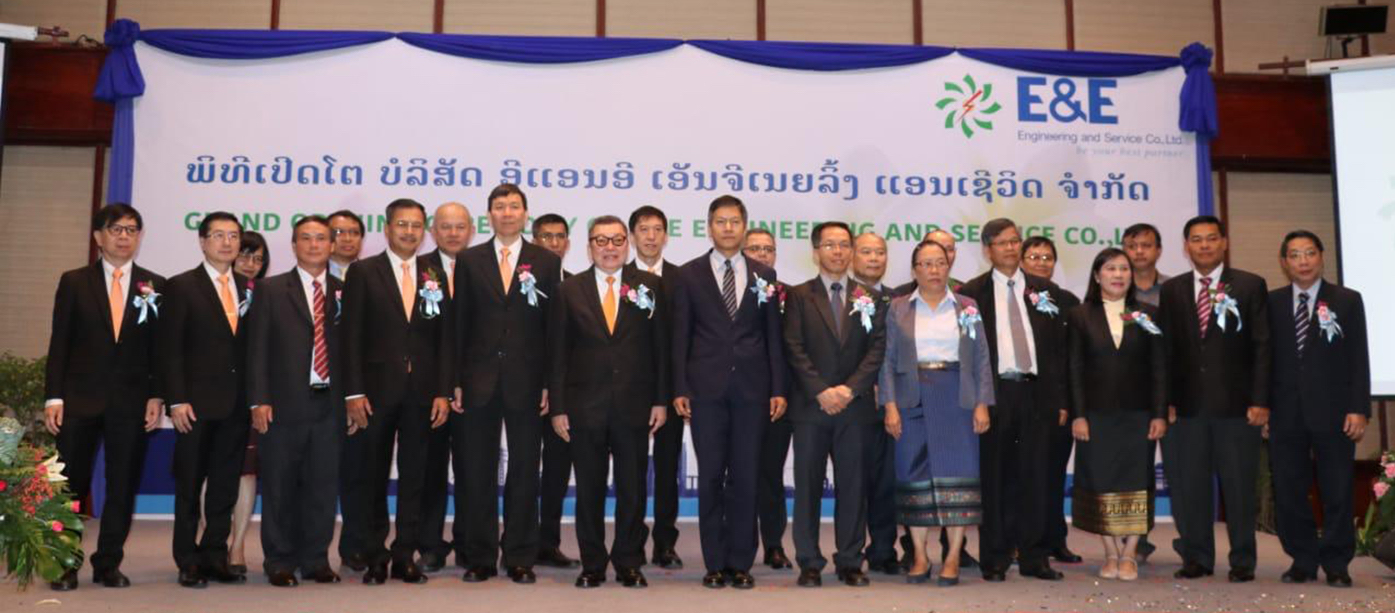 (From left) Mr Jakgrich Pibulpairoj, Lieutenant Chatchawan Sakornsin, Dr Daovong Phonekeo and Mrs Rattana Prathoumvan cut a ribbon to open the E&E Engineering and Service Company Limited in Vientiane.
Source: Vientiane Times Newspaper on January 14, 2019.